Lupita Nyong'o is killing it y'all! The
12 Years a Slave actress stole the spotlight at a recent premiere in a black cut-out Christopher Kane dress and Christian Louboutin pumps.
In case you want more of Lupita People Magazine did a cool post on five things to know about the 30 year old:
1. She comes from a distinguished family

She was born in Mexico but raised in Kenya; her father is Peter Anyang' Nyong'o, a politician serving in the Kenyan Senate. Her cousin Isis was named one of Africa's most powerful women in Forbes in 2012 for being the vice president and managing director of African operations of InMobi, the world's largest independent mobile advertising network. Her other cousin Tavia Nyong'o is an associate professor at New York University's Tisch School of the Arts.


2. She has a lot of reasons to thank Ralph Fiennes

During her summer break from Hampshire College in Amherst, Mass., she landed her first job in film as a production runner on the set of the 2005 drama The Constant Gardener in Nairobi. "Ralph Fiennes was a pivotal influence on me," she told the New York Post. "He asked me, 'So what is it you want to do?' I very shyly, timidly admitted that I wanted to be an actor. He sighed, and he said, 'Lupita, only be an actor if you feel there is nothing else in the world you want to do – only do it if you feel you cannot live without acting.' She took his advice and never looked back. Soon she enrolled at the prestigious Yale School of Drama to brush up on her acting. In May 2012 – three weeks before graduating from Yale – she landed her first film role as Patsey. "Never in my wildest dreams did I believe that I'd be involved with a project of this magnitude right after graduating from drama school," said Nyong'o.

3. She's adjusting to fame

"It's definitely an exciting time in my life right now. A lot of the time it feels quite magical, and I feel it's like an outer-body experience," she told PEOPLE about making her debut in one of the most talked-about films of the season. "I'm still trying to get over the fact that my name is being mentioned with people like Brad Pitt. Every day new things happen in my life, and I'm taking it day by day. When I was cast in his film, surely I was going to meet him one day. I wouldn't say I was starstruck. I was stunned, and I was like, 'Yup this is actually happening.' "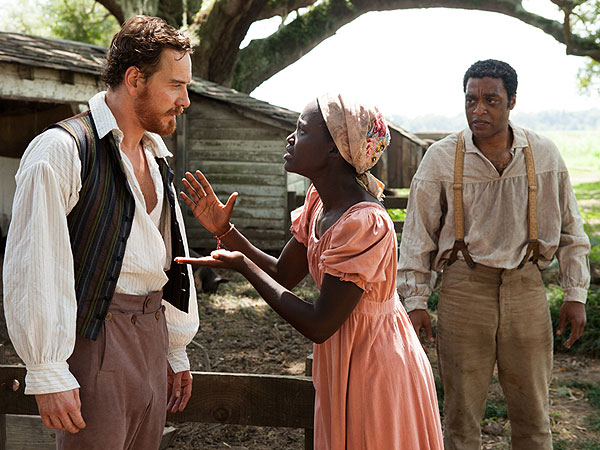 4. She's crafty

When Nyong'o did research for her role, she discovered it was historically accurate that Patsey would make toy dolls out of cornhusks. "I went to [director] Steve [McQueen], and he had the art department provide me with corn immediately," said the actress, who is single and lives in Brooklyn. "I learned how to make the dolls out of the cornhusks. It's now a passion of mine."


5. She knows how to have fun

Despite the film's heavy subject matter, it was important for Nyong'o to bond with her costars, especially with Fassbender, whose character physically abuses her in the film. "We had a circle of trust. It took trusting each other and feeling safe to go to those places," she said. "After scenes like that, we'd go dancing, we went go-karting and did paintball."
So awesome! I hope she gets that Oscar nomination everyone is buzzing about!